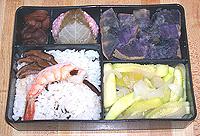 I don't like Winter, at least not when I'm waiting at an unsheltered bus stop on a busy street at 6:00 AM. So, today's lunch is all about Spring, and it is, by implication, an insult to Winter. Maybe Winter will take the hint, pack its bags, and go back home. To Canada.
Anyway, here we have a shrimp on rice with shiitake mushroom. The shrimp was boiled on a skewer; see the chirashi-zushi recipe for details. There's minced shiitake mixed in with the rice, and it's pure coincidence that the bits on and around the shrimp make it look kind of like a hummingbird. Which is another Springlike image, except I would never do something that cutesy, so I must emphasize that the shrimp and mushroom bits fell into that configuration by purest accident. Really.
Then there's some zucchini & onion stir-fry, baked purple sweet potato, a sakura mochi (onigiri type), and some See's chocolate & nut candies. Sakura mochi are eaten during cherry blossom watching festivals, another Spring event.
Wanna talk about it?