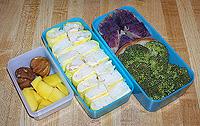 Here's my second new bento box! The main bento is another two-tier box, which came with the small tray inside the larger one. Which had a still-smaller container inside that, and another inside that, and finally a little bitty sauce container. It was like taking apart a matryoshka doll! The largest three pieces are pictured here; the smaller ones weren't needed this time around. Oh, and the thing also came with little chopsticks which fit on the lid, and a drawstring bag. That's quite a change from my usual knotted-off Kroger plastic bag.
As with yesterday's box, this thing is not large, so I had to consider what to pack. So, here we have omurice - that's just short of a full omelet there, BTW - baked purple sweet potato, steamed broccoli, mango, and boiled chestnuts. And if you look closely, You'll see I used a slice of white mountain bread as a divider in the largest container. White mountain bread is pretty dense, so as long as the food isn't very wet it works just fine as a divider. Jelly tastes funny with broccoli, though.
Not pictured: ketchup packets for the omurice. I use fast food ketchup packets because on the rare occasions I go to Wendy's or Chick-Fil-A I always end up with too many, and I hate to throw out perfectly good condiments. And, hey, they save me the trouble of having to wash out another container.
Wanna talk about it?