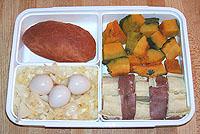 Another trip to 99 Ranch Market, another load of new neat stuff, another experiment in my lunch box. Today's new goodies are quail eggs on stir-fried cabbage. I've never had canned eggs before. Well, today I learned that canned quail eggs taste like regular boiled eggs, but littler. Not that "littler" is actually a taste...
There's also more steamed kabocha, some baked Japanese sweet potato, and a miniature an pan made while baking a batch of cafeteria rolls.
Wanna talk about it?