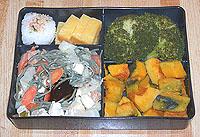 Today's lunch ended up as a vegetarian meal purely by accident. I have vegetable yakisoba, with cabbage, carrots, tofu, scallions, and shiitake mushrooms. All that plant matter, and I simply forgot to defrost and throw in some seafood! And there's steamed kabocha, steamed broccoli, an onigiri with shrimp furikake, and khoai mě nuong (cassava cake). Hmm... I don't think I'll miss eating flesh too much today.
Isn't the onigiri cute? That's what happens when I have an extra space in my lunchbox and no idea what to put in there. It's so easy to just mush some leftover rice into a ball the right size, stick on some nori and furikake, and drop it in. The dark bit in the middle of the yakisoba is yakisoba sauce, which I'll mix in when it's time to eat.
Wanna talk about it?