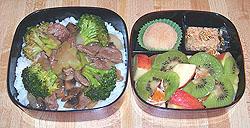 My fridge is still full of leftovers, but I cooked last night anyway. Hey, I was in the mood for beef & broccoli stir-fry, so that's exactly what I made. It's actually a pretty quick and easy meal to cook, and it goes well over rice - as you see here - or noodles. On the other side we gots a mochi, a pumpkin cookie, and fruit salad with apple, tangerine, and kiwi fruit.
I'm one of those people who usually order the same thing at restaurants. My Chinese Restaurant Thing is broccoli beef. It was a glorious day indeed when I discovered that I could cook it for myself.
Wanna talk about it?