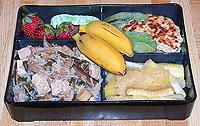 Fridge full. Must make space by using stuff up!
Here's some more "pseuki yaki," with the bean noodles a little overemphasized because this was at the bottom of the batch, where all the noodles migrated. BTW, the leftover broth from this stuff is wonderful in couscous, with soba or somen noodles cooked in it, et cetera. I'll get a recipe up soon, I promise!
Moving clockwise from the pseuki yaki, there be zucchini & onion stir-fry, cassava fritters, edamame, a green bean mochi, strawberries, and, perching in the middle, some cute liddle baby bananas. Those didn't get packed inside the box; I slipped them in under the furoshiki knot.
BTW, happy Pi Day! Drink a toast at 1:59 this afternoon!
Wanna talk about it?