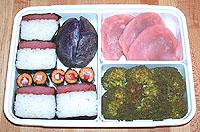 Hooray for Spam musubi! Without it, how would you know that the trains were so fouled up that I got home an hour later than usual and was starved and in no mood for fancy cooking? Most of the other foods were made as fast. Certainly the baked Purple Peruvian potato (hi, Laurie!) took little time - three minutes in the microwave - and the steamed broccoli came right out of a leftovers container. In among the spam and spud are some "Dan-D-Pak Sushi Rolls," an item I bought because of its sheer silliness. You know those sticklike rice crackers, the ones with the pretzel-like crunch and the nori wrapping? Now imagine a hollow version that you can stick sushi fillings into. So I did just that with little bitty bits of crab sticks, and amazingly enough it tastes just like a rice cracker with a tiny bit of crab stick through it!!
After I ate dinner I was feeling a little more patient, and in honor of the first day of Spring (well, part of the day; Spring officially begins sometime this evening) I made sakura mochi. This is the easiest recipe I've found, and is basically anko wrapped in a mochiko crepe. I don't have a cherry tree to sit under as I eat this, but I do have a picture of a dogwood on my wall.
Wanna talk about it?