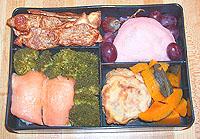 Today's Brilliant Innovation™ is fried potato skins. These were a byproduct of the potato croquettes, actually. I was frying up stuff anyway, and... hmm, why not throw in some potato peelings when I'm done? And, hey, they turned out well! Some even puffed up into little pillows. Now, do you have any idea how hard it was not to eat them all while they were hot?
The rest of the stuff is the usual end-of the-week medley. There be, in no particular order, smoked salmon sushi made nigiri-style (meaning I was lazy and just shaped a few slugs of rice with my hands rather than busting out the rice mold), more southern-fried potato croquettes, steamed broccoli, steamed kabocha, sakura mochi (mochiko version), and some grapes.
If humans were filter feeders, and if pollen had much nutritional value, I would not have to pack lunches for the next few months. If you're in Atlanta you know what I'm talking about. *achoo*
Wanna talk about it?