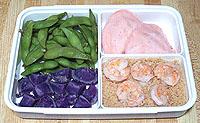 To follow-up on yesterday's garlic butter octopus, today I have garlic butter shrimp. I didn't bother looking around for recipes; I just threw some shrimp at some melted garlic butter and it happened. (Do not ask about the peeling, and especially do not ask about the deveining. Yuck.) The shrimp are curled up like sleeping kittens on a bed of couscous made with "pseuki yaki" broth, and I promise I'll post a recipe for pseuki yaki very soon. I'm still fine-tuning it.
Clockwise from the shrimp, there's also a baked Purple Peruvian potato cut up into chopstickable chunks (Purple Peruvians are firm enough for that), edamame, and a pair of sakura mochi (mochiko version).
Wanna talk about it?