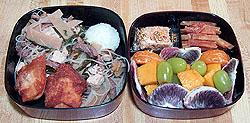 You may have thought that I'd never get a recipe together, but after decades of experimentation I finally did! (wild laughter, lightning flashing overhead) I have a recipe for pseuki yaki* that I can share! This is version 1.0 of the recipe, and I plan to tighten it up a little but after making it a few more times.
Keeping the pseuki yaki company are an onigiri and a pair of crab rangoons. Then, on the other side, we gots some imo kenpi- sweetened sweet potato sticks - a pumpkin cookie, and a fruit salad with mango, blood orange segments, tangerine segments, and grapes.
* Pseuki yaki is a family recipe that I have had to backwards-engineer based on decade-old memories and a "recipe card" that is nothing but a list of ingredients. It's called "pseuki yaki" because real "sukiyaki" is something completely different.
Wanna talk about it?