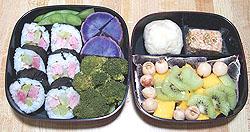 Okay, the maki here aren't really kimbap - Korean sushi - because the rice isn't seasoned with sesame oil. However, I often make sushi with unvinegared rice, so I suppose this is as authentically kimbap as it is sushi. Whatever! These tuna steak & broccoli maki are made with tuna steak left over from yesterday's meal and some steamed-soft broccoli stems. I aspired to be the first person to put broccoli into sushi, but Google quickly dashed my hopes. I'll have to settle for simply eating something that tastes good.
Keeping the [sushi|kimbap] company is some baked purple sweet potato, steamed broccoli, and a few pods of edamame. On the other side we have a pumpkin cookie, a steamed bun with anko filling, and a fruit salad of mango, kiwi, blood orange segments, and lotus nuts.
The container on the right looks like a face to me. This face, specifically: ;D
Wanna talk about it?