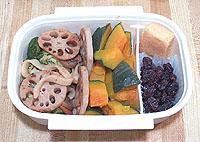 Today's lunch starts with chicken & vegetable yakiudon made with homemade udon noodles. This time around I made the noodles with a pasta machine. I thought that would be a nice little labor-saving addition to my kitchen. How wrong I was! If you want to read the details of my wrongness, check out the review I posted on Amazon.com (under my real name - it's the long, one-star review). I could start a rant here, but who wants to read about how suckidaisical a kitchen gadget that you can't even wash is?
Then there's steamed kabocha, raisins in a cupcake cup for easy pre-microwave removal, and a pineapple cake. Mmm.
Wanna talk about it?