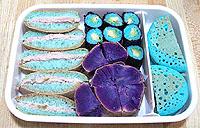 Here's some heavy-duty blueness! Yet, when putting this lunch together, I wasn't actually concerned with color. I have a dentist's appointment over my lunch break today, so I'm going to have to eat while working afterwards. So, everything in here is finger food, more or less.
So, here's a tuna salad sandwich on blue French bread. The last time I baked I made a few odd-sized rolls for breakfast, and one big flat roll I could use for French bread pizza. I used that roll for the sandwich, because while tuna salad might make regular bread soggy, it won't soak through crust! Then there's blue sushi - avocado maki, and greenish yellow makes a nice accent for the blue, don't'cha think? Baked purple sweet potato isn't really finger food, but it's dry enough that I can pick it up if nobody's looking. And, finally, thanks to the suggestions of Livejournal friends, some blue dorayaki. Normally you turn the smoother, prettier side outward, but in this case I was going for color, and the bubblier side was more vivid. Plus, since the blues are all pretty close, I went for different textures.
Wanna talk about it?