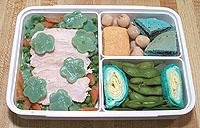 I had some defrosted chicken. I had some homemade noodles. I wanted the chicken and noodles together, but I wasn't in a yakudon mood. I was in a chicken noodle mood, but not a chicken noodle soup mood, especially since soup wouldn't go all that well in a bento. So, I improvised this concoction based on the ingredients of chicken noodle soup, but without the actual soup, and with a whole chicken breast instead of diced-up miscellaneous chicken meat. And it turned out delicious! So, I hereby dub this concoction chicken noodles, and I call your attention to the homemade blue noodles. They are wheat noodles made like udon, except I got a little silly with a vegetable cutter and made blue flowers. Shame on me. Oh, and that's actually thin strips of chicken breast rather than one lunchmeat-like slab. Drat my shadowless lighting.
On the other side we find edamame, a pair of blue rainbow rolled omelet slices (the last little bits from yesterday's omelet), blue dorayaki, pineapple cake, and lotus nuts.
Wanna talk about it?