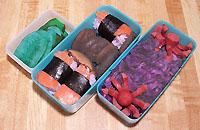 I've been in a mood to restrict, which I won't allow myself to do, but I will compromise by using a smaller box until the mood passes. That gives me a smaller serving so I feel a bit better. (But I'll probably be ravenous by the time I get home. Stoopid body and its stoopid needs.)
Anyway! Here are some smoked salmon sushi, with little nori "obi" belts to help keep the rice blocks together. There are some simmered shiitake mushrooms. There's stir-fried red cabbage which is purple, hot dog octopi which are red, and Kool-Aid pickles that are blue.
Wanna talk about it?