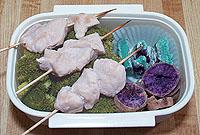 I cooked this meal after getting home from a weekend visiting my sister's family. She has two children ages 4 and 7. Need I explain being tired by the time I got home? I was not in the mood for fancy cooking; I wanted sustenance. I skewered some hunks of chicken breast and George Foremanned up a batch of yakitori (which I drizzled with sweet & sour sauce, which is an unauthorized combination, but who cares, it tasted good), and ate it with steamed broccoli, baked purple sweet potato (I finally got to go to 99 Ranch Market again!), and blueberry mochi.
And then I was sick from work on Monday, so this is today's (Tuesday's) lunch.
Wanna talk about it?