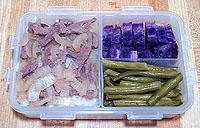 Like my new box? It's a Lock & Lock I snagged at 99 Ranch. Watertight, dishwasher & microwave safe, removable inner containers, decent size, $4. Gimme!
And inside this box are gyuudon (AKA "beef bowl," for you Urusei Yatsura fans), steamed green beans, and baked purple sweet potato. The gyuudon was a bit of a fluke. I was planning to make broccoli beef, and was thumbing through my stack of unorganized recipe printouts when I found my gyuudon page. Hmm, that'll use the beef & onion too, and I haven't made that in how long, and it cooks fast. Yeah! And I made it, and it was good. Too bad it doesn't photograph all that well. 'Tis the fault of the photographer, not the subject.
Wanna talk about it?