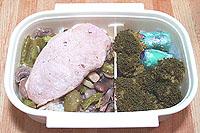 Recently I helped out in the kitchen while my mother made pork chops, and thus learned how to make them. I couldn't ask her for the recipes, and she never uses them. You know what it's like trying to get cooking instructions from someone who doesn't use measuring cups or timers or anything because she simply knows what she's doing? Arrgh! But despite overwhelming odds I learned how to cook this dish, which I hereby dub My Mom's Pork Chops. It's broiled pork chops with mushrooms and bell peppers and garlic over rice. As I've packed regular Uncle Ben's white rice instead of the more bento-friendly sticky rice, eating this is likely to be an adventure.
Mom always served these chops with steamed broccoli (well, boiled, but I can't be a slave to tradition) covered with the most delicious hollandaise sauce on the planet. However, that's tricky to make, so I have to be satisfied with salt. Ah well, another recipe for another time. Finally, I have blueberry mochi. Traditionally this meal ends with key lime pie, but I didn't think that would microwave too well.
Wanna talk about it?