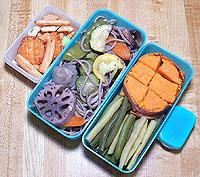 Today's lunch is sponsored by my coworker Maria, whose garden produced the squash and beans here. When are my plants going to start puttin' out, huh?
Here's some yakisoba with a little of everything I could find thrown in. What's in the fridge? crab legs, lotus root, snow peas, zucchini and yellow squash, broccoli, onion, carrots, shiitake and regular mushrooms, and I forget what else. It's a great way to use up stuff. The only problem is that I tend to use so much stuff that I can barely stir it all In my deep pan. But I persevered, and the result was lots of noodles and vegetables. No oil, however - I simmered this in shiitake water to add flavor and save on calories.
And then there's some baked sweet potato and steamed green beans. What's up with the yellow beans? There were a few of those mixed in with the regular greenies. They look and taste just the same. Maria didn't know where they came from, so I suspect Gregor Mendel may have snuck into her garden at night. Finally, there are some rice crackers, which are lighter and puffier than the usual hard ones, so that little box contains very few calories.
Wanna talk about it?