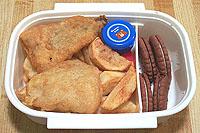 I celebrated July 4th this year in my traditional-as-of-two-years-ago fashion: by making British-style fish and chips. Ahh, fish & chips. Deep-fried goodness. I first tasted this when I spent a few summers in England during my college years, and I fell instantly in love. Now I can make it for myself! And, although I'm being a bit of a smartass by eating a British dish on Independence day, it really isn't out of line with American tradition. What could be more American than celebrating holidays with a load of calories?
Ah, America. I kid you because I love you. That's my official position, anyway.
Anyway, the fish this time around is whiting. I would have preferred cod, but the cod was not priced, and I have an aversion to buying things whose prices aren't marked. I'm rarely happy when the mystery is solved. On the side I have a few "Hit" cookies, which by the way are also British, or at least something I remember from England.
Wanna talk about it?