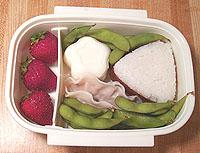 Okay, every so often I get a little cutesy with my lunches. I crammed a poor innocent boiled egg what never did nuffin' to me into an egg mold and created this star-shaped boiled egg. Keeping it company is an onigiri stuffed with smoked salmon, which is its partner in geometry if not cuteness. Then there are a few storebought pork & shrimp dumplings, which are similar to gyoza, except you boil them as opposed to frying and/or steaming them. They're not bad, but not great either - pretty much what I'd expect out of something that comes frozen in a bag. Finally, I have edamame and strawberries.
By the way, I bought some of those stackable containers that Big Lots sells, and - wow! - now my bento-making stuff is organized in one place. Those things are just the right size to hold a lot of stuff without being obtrusively big. I'll be getting a few more, I think.
Wanna talk about it?