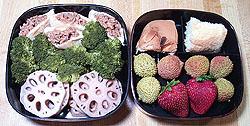 Lately I've been in the mood to cook by figuring out what I can do with what's already in my fridge rather than starting with a recipe and then getting the items I don't have. This time around I put together some ground beef; basil, garlic & oregano tomato sauce; and cheese dip (I'm embarrassed to admit that I have that stuff in my fridge) to make... well, I don't know what to call it. Ground beef with cheese and tomato sauce? Hmm... how about ground beef salad? Yeah, that'll do. It's one of those handy-flexible things that you can whip up in minutes and serve in a lot of different ways. In this case, I stuffed mini-pitas with it to make mini-pitaburgers.
Then I have the totally-unsurprising steamed broccoli. Below that is lotus root, which this time I didn't cook up fancy. I cut it into coins and parboiled it, so it has its own mild flavor, and a pleasant crunch. On the other side, fresh lychees, strawberries, and almond cake.
Wanna talk about it?