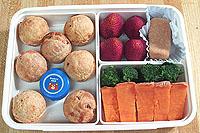 Last night I made some more takoyaki. I varied the recipe and worked on my technique a bit, and I things are improving. I'll keep tweaking the recipe until I'm satisfied with it, then update what's on my site. (The recipe currently posted works fine, but there's room for improvement.) The takoyaki pictured here have little black bits visible because I made them with red cabbage - that's what was in my fridge - and the leaves are so dark they look black. The blue container contains mayonnaise, my usual takoyaki condiment.
Then there's ohitashi, which this time I made without soy sauce because I like spinach better with mayo. And there are slices of baked sweet potato, and strawberries, and peanut mochi.
Nyom nyom.
Wanna talk about it?