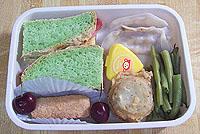 I got green with today's lunch. See the French bread? It's green, not blue. I think it's a pretty color, even appetizing. Hidden underneath are the additional elements which transform mere bread into a bacon and egg sandwich. Since the egg was actually part of an omelet, it has the additional plus of being full of crab stick meat, which is what I made the omelet with. Bacon, egg, and crab sammitch. Mmm.
There's more green, of course. Most obvious are the steamed green beans, and on the subtler side I also have fried green tomatoes, made with tomatoes from my own garden. (That's the only way I can get thoroughly green tomatoes!) However, the storebought pork & shrimp dumplings, cherries, and peanut mochi are not green at all. Shame on them.
And on a totally non-bento-related topic, I present to you last night's dessert: a Banano Split.
Wanna talk about it?