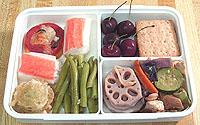 I'm in the mood to pack lunches that include lots and lots of different things. This may look like a festival of leftovers, but actually I planned it this way. So, here we have chibi pita pizza (with a single pepperoni and olive), crab-topped sushi, steamed green beans, fried green tomatoes (with tartar sauce sandwiched in between them), flavored lotus slices (simmered in chicken broth, to be precise), jjol myeon (Korean spicy chewy noodles) with chicken & vegetables, cherries, and a microwave s'more.
I wasn't sure the tiny pita pizza thing was going to work. Those little pitas aren't a flat as their larger cousins. But, hey, they came out fine, and they're the perfect size for a bento box. As for the s'more, why have I not made those before? I've had graham crackers, chocolate melts, and mini-marshmallows on hand forever! You'd think I'd be smart enough to realize the possibilities before now, wouldn't you? Sheez, you'd think I'd completely forgotten my childhood.
Wanna talk about it?