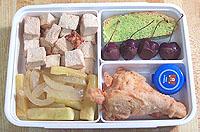 If that title makes sense to you - hello, fellow Rocky Horror fan!
Today I have a pretty eclectic lunch. There's a pair of small fish fillets with a container of tartar sauce. Some zucchini & onion stir-fry. Marinated, stir-fried tofu, which I just threw together by cutting up a block of extra firm tofu and soaking the resulting cubes for 15 minutes in some teriyaki sauce left over from another recipe and then pan-frying it on medium heat, and let me tell you it turned out good! Some green French garlic bread, which is like regular French bread, but toasted with garlic and butter. And it's green. Finally, some more chocolate dipped cherries.
Wanna talk about it?