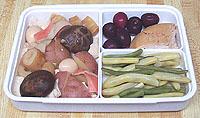 Today's lunch features oden, AKA fishcake and vegetable stew. I didn't have quite all the fixings I've used before - I'm low on stuff like konnyaku and lotus root - but no problem, stew recipes are flexible. I added in some crab sticks, and they went well with this. Oh, and it's a good way to use canned quail eggs.
On the side I have some steamed green and wax beans. Yep, still with those beans - my coworker gave me a lot! And finally, I have cherries and bulla. And when I run out of this package of bulla I bought, I'm gonna try out some recipes, 'cause bulla - Jamaican ginger cake - is good.
Wanna talk about it?