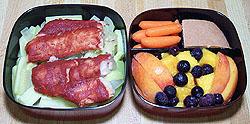 You know you're lazy when you use the recipes printed on food packaging. Well, I got lazy and used the tomato baked whiting recipe I found on the back of a bag of frozen-slabs-o-fish, and it cooked up quickly and tasted quite good, so here it is, served over a bed of zucchini & onion stir-fry. This was actually a good combination to cook, because the zucchini & onion takes just as long to cook as the fish takes to bake. Bung the fish in the oven, stir up the fry, then 20 minutes later serve both up hot.
On the other side I have bulla and a fruit salad made with peach, mango, and blueberries. And some mini-carrots, which I don't normally include because I eat them all day at home - they're my typical munchie - but I needed something for that last little slot in my bento box.
Wanna talk about it?