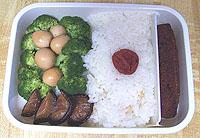 This meal's Mad Scientist Creation is simmered quail eggs in a nest of steamed broccoli. Well, the broccoli is ordinary; it's the quail eggs that are kind of weird. I had some left over from when I made oden, and canned quail eggs are... not a spectacular taste sensation. So what could I do to improve them? I had some leftover teriyaki sauce in the fridge, so I simmered the eggs in that. The result was quite nice! I'd try it with regular eggs, except it'd take plenty of teriyaki for one of those.
I also have simmered shiitake mushrooms - simmered in with the eggs, as a matter of fact - rice with umeboshi, and banana bread. That's the heel of a loaf, and it is dark brown as opposed to black. Ah, the wonderful lighting in my kitchen!
Wanna talk about it?