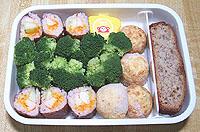 It reached 100 degrees in Atlanta yesterday, and it was smoggy and humid. My commute is 2 hours long each way, bus-train-bus, and about an hour of that is spent waiting out in the heat for my next connection. I'm not always in the mood for cooking after that! So, here's a cheater lunch assembled out of what I could pull right out of my fridge and freezer: crab & cucumber sushi, takoyaki, steamed broccoli, and banana bread.
Atlanta summers suck.
Wanna talk about it?