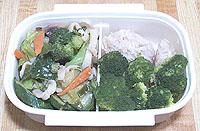 When I make yakisoba or yakiudon, I go heavy on the veggies. As in, by the time I'm done you may have to look hard for the noodles. Which is a slight exaggeration, but looking at this photo you'd never know it. The noodles in this helping of vegetable yakiudon have somehow gravitated to the bottom. By the way, I made it with homemade udon noodles. I am so hardcore.
And with this I have some leftover pearl meatballs, and steamed broccoli. And that's it. This lunch is simplicity itself, yet no less delicious.
By the way, I was quoted in an article on bento lunches that The Monitor - a Texas newspaper - recently published. Wow, I'm all famous now. Anyone want my autograph?
Wanna talk about it?