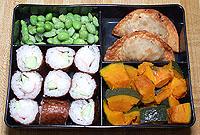 Today's bento lunch is brought to you by the numbers 2 and 9, and the color orange.
To start with, I have cucumber, crab, & cream cheese sushi, which looks totally bland because all three of those items are so pale they blend in with the rice. If I'd realized that I would have added some masago to pretty 'em up. The flavors are more vivid than the colors, thankfully! One is turned on its side to show the odd nori I've been using.
I have some edamame, some steamed kabocha - If you see that stuff in one of my lunches you know you're going to see it again and again; it takes a while to eat a whole steamed squash! - and banana gyoza.
By the way, I will be on vacation until Wednesday the 5th. Since I'll be at a convention - Dragon*Con in Atlanta - it's not likely I'll be packing bento lunches. See you next month!
Wanna talk about it?