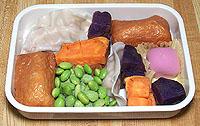 When I packed this lunch I was apparently channeling Piet Mondrian. In a squares-and-rectangles pattern I have inari-zushi, pork & shrimp dumplings, steamed purple sweet potato, baked sweet potato, edamame, and mochi.
When I went to work I had to carry this in a tote bag with some large books, so I couldn't carry it flat like I normally do. You don't want to know what it looked like when I reached my office, two buses and a train later! Guess I should have used one of my divided boxes, huh?
Wanna talk about it?