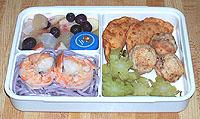 It's Friday, which for a lot of us means a leftovers lunch and a slightly-less-cluttered fridge. That's the case here, although the leftoveriness is less because of a leftovers purge and more because I just got DDR Supernova 2. No time to cook fancy meals, busy arrow-stomping!
Fortunately, on days like this my freezer comes to the rescue. I have crab rangoon gyoza and takoyaki that I cooked quite some time ago and froze against future need. I have shrimp over satoimo noodles - OK, I did cook the shrimp, but I couldn't resist putting the orange & white on top of those lavender noodles. Then there's steamed broccoli stem stars and a fruit salad made with apple, pineapple, blueberries, and coconut gel. The coconut gel was an impulse buy the last time I was at 99 Ranch. My policy is that every time I shop there I buy something I've never tried before, and when I spied the coconut gel & pineapple in a small jar I had to give it a try.
Wanna talk about it?