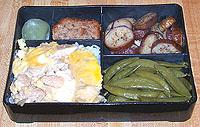 This weekend was a total cooking blitz time. I started with oyakodon, which I made once before and was not too thrilled with the swampy results. Well, a friend smuggled me another recipe, and that turned out really well, with just enough liquid to season the rice without swamping it. I've updated the recipe on my site, naturally. Also, for the first time I cooked baked eggplant slices. Since I'd never made eggplant before (successfully - my one previous attempt was so lame I don't count it) I was flying blind, with no idea of how it was supposed to taste. Well, it tastes good. I also have some steamed sugar snap peas, the cooking method of which is ordinary for me, but I'd never tried sugar snap peas. They're nice and crunchy. And finally, for dessert I have banana bread and a mochi.
The cooking blitz continues with tomorrow's lunch!
Wanna talk about it?