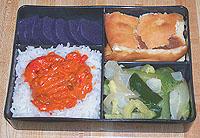 I was very brave this past weekend. I went, all by myself, to an Indian restaurant and ordered food I've never had before. The reason this is a big deal for me is that all my memories of Indian food are of the super-spicy food my mother liked - hot pink chicken and so on - which I could not eat. The spices were to the flavor of food as an air raid siren is to music. It takes a bit of work to overcome those kinds of memories and give something another go, but, what the heck, there's an Indian restaurant near me that I've never visited in the 10 years I've had my condo.
Anyhow, the food was good, I had mild chicken tikka masala with some fluffy rice. The bright orange of the sauce alarmed me initially - pushing those childhood memory buttons, you know - but it tasted fine. I also had some fruit-stuffed naan which was more like pastry than bread. (I did get ambushed by a pre-meal chiplike thing that was mild when I ate it but caused my tongue to burn afterwards. I'll know better next time.)
So! For lunch today, I have leftover chicken tikka masala over rice and some of my homemade naan, which I tore into bits because I like the look of torn naan, OK? I also have zucchini & onion stir-fry, and purple imo-yokan because I didn't have a leftover green veggie or dessert.
Wanna talk about it?