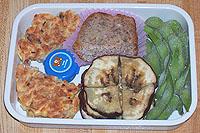 Today's lunch is sponsored by Things In My Fridge I Needed To Cook. Namely some baby octopi, which became octopus fritters, and an eggplant, which I transformed by arcane techniques known only to alchemists into baked eggplant slices. Oh, and there's also edamame and banana bread.
As you can see, this time I cooked a bigger, black eggplant. I think I prefer the skinny purple ones at the Asian market. I like the flavor more. The blue container contains okonomiyaki sauce, which goes well with octopus fritters.
Wanna talk about it?