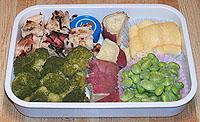 Today's lunch is made with food. Different kinds of food. Food like seafood medley okonomiyaki, steamed broccoli, baked Japanese sweet potato, edamame, and storebought melon pan. Actually, only a small part of the melon pan - the one I had was about the size of a small tortoise.
The weird title is a reference to ReBoot, a CGI cartoon that's being revived as a comic now. Bob was Guardian 452, y'see. And I just found out that something I wrote is going to be a backup story in the first comic. Color me pleasantly startled!
Wanna talk about it?