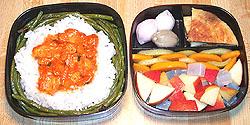 Yesterday I had a day off from work, so I got to go to the Buford Highway Farmer's Market and grab neat stuff, much of which will turn up in the next few entries.
Today's lunch starts with chicken tikka masala over rice... sorta. I had plenty of sauce left over from the original dish, so I grilled some chicken breast, sliced it thin, and mixed it up with the sauce to absorb some flavor. Hey, the sauce was tasty enough that I didn't want to throw out the extra, OK? The chicken & rice is surrounded by stir-fried long beans, which is one of the new-to-me things I bought. They can be cooked like regular green beans, but they're a foot and a half long, which makes them cool! (I cut them in half to stir-fry them, and even then they kept trying to escape from the skillet.)
On the other side I have Korean rice cakes, which are not terribly sweet until you get to the sesame filling, hoddeuk, and a fruit salad made with persimmon, apple, kiwi fruit, pineapple, and coconut gel.
By the way, if you live in Atlanta and are looking for bento boxes, the Buford Highway Farmer's Market has lots of them in different sizes and shapes. I got 650 and 800 ML "leaflet tight" boxes for $7 - $8, a great big ol' picnic-sized bento for about the same price, and I saw several different brands of lunch jars, Zojirushi among them. They also have taiyaki makers for $17. Sweet!
Wanna talk about it?