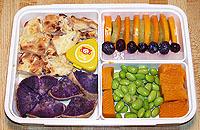 I was feeling very organized when I packed this lunch. Sure, the octopus fritters, container of okonomiyaki sauce, and baked purple sweet potato are fairly chaotic, but on the right side order takes over. Baked buttercup squash hems in shelled edamame, and I don't know if I can call that fruit thing a fruit salad, it's so orderly. Persimmons & kiwi fruit alternate, blueberries lined up atop a row of coconut gel. However, I bet that after my two-hour bus-train-bus commute it'll be a little less fussy-looking.
Normally I'm a primary-colors person. This lunch, with its blue-orange-purple scheme, is quite a fluke for me.
Wanna talk about it?