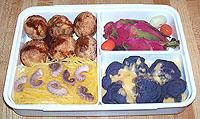 Have I mentioned that I'm not in love with the flavor of cauliflower? So I looked around for something that would counterbalance the bitter taste, and I ended up settling on the old classic, cheese. I found an easy recipe for that, and made it, and behold my steamed purple cauliflower with cheese sauce! As a bonus, some of the purple diffuses out of the cauliflower and turns the cheese a pretty rosy color.
And I have takoyaki, the recipe for which I will update very soon now as I've refined it quite a bit. I'm actually getting the hang of making these things. And I have spaghetti squash decorated with baby octopus tentacles (oh, the odd things I find hidden in my fridge), dragon fruit, and chocolate covered fruit bits that leapt into my cart while I was shopping in Trader Joe's.
Wanna talk about it?