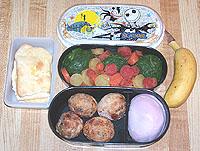 I got a new bento box! Normally I eschew cartoon boxes, but for The Nightmare Before Christmas I make an exception. It's just the right combination of cute and freaky.
Inside this box I have takoyaki, the recipe for which I have updated because I finally think I know what I'm doing. The dark spots on the outside aren't burns, but the red cabbage I made these with. Then I have three ohitashi buried in a sea of steamed multicolored carrots. In a separate container (which came with a different bento set) I have some naan, the recipe for which I have also updated now that I know what naan is supposed to be like. And there's a half moon rice cake - basically, Korean daifuku - and a baby banana. Finally, under the lid I've stashed some salad Pretz.
As you can probably tell from the takoyaki, this box is small for an adult. One might even call it teeny-weeny, hence the extras I've packed on the outside. It's likely just right for a smaller kid,though. A smaller kid would also make use of the special Nightmare mini-fork that goes under the lid when said space is not being used for Pretz.
Wanna talk about it?