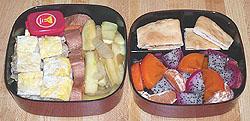 You wouldn't think that something as big and obtrusive as turkey could hide, but here's the evidence that it can: turkey omurice. It's omurice, but it's made with turkey (dark meat) instead of chicken! If that's not revolutionary, what is?
Um.
I also have baked sweet potato, mainly put in there to act as a buffer between the omurice and the zucchini & onion stir-fry. On the other side I have fruit salad made with persimmon, satsuma, and dragon fruit, and some brown sugar & raisin stuffed naan. The latter was just a whim - hey, I'm making naan, why not try putting stuff inside it like I've seen in the restaurant? - that worked out quite tastily. And I just now realized that I could have stuffed it with turkey. D'OH!
Wanna talk about it?