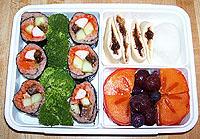 I haven't made much sushi lately, so here I go with some crab, cucumber, & shiitake sushi. I recommend the combo, especially if you have some leftover simmered shiitake mushrooms to cut up. The sushi are divided by a hedge of steamed broccoli. On the other side I have some persimmon, cherries, and blueberries, the latter two of which were frozen and all of which are too organized to really call a fruit salad. Finally, up above I have a cut-up brown sugar & raisin stuffed naan and a half moon rice cake.
I'm kinda diggin' on the color combo, which was an accident. Orange masago in the sushi, orange persimmon, pink beet rice, green broccoli. Distinctive, but not as "out there" as some of my lunches have been.
Wanna talk about it?