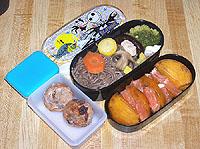 Yakisoba is a dense food, which means I can pack it in a smaller bento box, like this Nightmare Before Christmas box. So, here is some vegetable yakisoba, persimmon, and pink orange, with a side of takoyaki, and salad Pretz hidden under the lid. The closed container has yakisoba sauce.
Yakisoba is good winter comfort food. It's one of those dishes you can whomp up quickly using whatever you have in the fridge. As long as you have the noodles, you're in business. (And if you don't, leave 'em out and call it a stir-fry.)
Wanna talk about it?