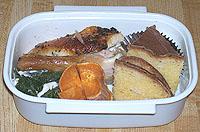 I had planned to do some cooking after swinging by the grocery store on my way home. But I was tired, and in a moment of weakness I picked up one of those rotisserie chickens that come all hot and juicy in a bag. And you know what? I don't regret it. I'd do it again. Especially when they're on sale.
So! Here's some barbecue chicken - well, rotisserie chicken with barbecue sauce, anyway - boiled collard greens with mayonnaise, baked sweet potato, French garlic bread, and fudge.
I promise I'll cook for real tonight.
Wanna talk about it?