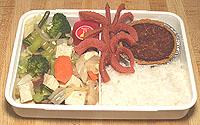 I have too many veggies in my fridge. Well, not really; I'd rather have lots of vegetables than not enough. And having a good variety means I can grab whatever I have, cut it up, and make stir-fried vegetables. On the side I have a bit of yakisoba sauce. Then there's some rice, a pair of hot dog flowers, and a miniature purple sweet potato pie, which I made by following the regular recipe and baking it in miniature pastry shells instead of a big pie crust.
Those hot dog flowers turned out weird. They look like... upside-down hot dog octopi. I have no idea how that happened.
Wanna talk about it?