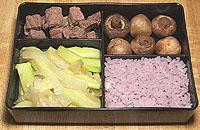 Here we have a recapitulation of the very first bento I ever blogged: my Benihana Ripoff Special. Marinated stir-fried beef, zucchini & onion stir-fry, rice, and sauteed mushrooms.
This, to me, is the classic make-it-yourself Japanese meal, plagiarized from my favorite teppan-yaki house. I don't usually make it with lavender rice, but, hey, why cook up another batch when I still have leftovers? Anyway, this is the first stuff I really figured out how to cook as opposed to just boiling or microwaving or, in extreme cases, actually reading directions and mixing things together. Those old spaghetti-and-ragu days. I might still be in that rut if I hadn't tried the bento thing out of curiosity, and then set up a website when I realized how well it worked for me.
Wanna talk about it?