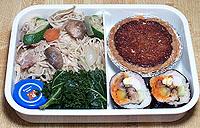 Today I have yakiudon-style vegetable noodles with bacon & vegetables. Recently I posted bacon & eggs fried rice, and how delicious that was. Well, bacon is also delicious in yakiudon and similar dishes. Is there anything bacon does not make delicious? Bacon cake, mmm.
Then there's some kale ohitashi. That's boiled kale wrapped into little maki-style cylinders, with a cup of dipping mayonnaise because that's how I eat greens. Kale is... well, okay. Edible but not impressive. After trying all the greens I can regularly find at Kroger, I have to say that spinach remains my favorite, for flavor if not for price.
Then there's futomaki, and a miniature purple sweet potato pie. Trust me, it's purple under that brown top. It's also delicious enough to compete with bacon.
Wanna talk about it?