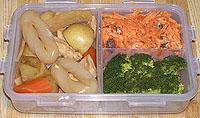 Iridori is neat stuff. Basically it's Japanese chicken & vegetable stew, with things like bamboo and potatoes and carrots, all cut in thick chunks. Normally I make it with taro root, but I'm not hardcore enough to pay what Kroger charges for those, and they're often in poor shape from sitting there forever because nobody else is either. Anyway, new potatoes work fine. Those twisty things on top are slices of konnyaku gel, which funky stuff and pretty much calorie-free. I suppose the darker version would be more photogenic, as the light version is pretty much the same color as the chicken, potatoes, and bamboo, but the dark stuff looks kinda yucky to me.
Then there's steamed broccoli and carrot & raisin salad. Three cheers for veggies! OK, cheering is a bit much, but I do give them my quiet appreciation.
Wanna talk about it?